Grassfire Bluegrass Band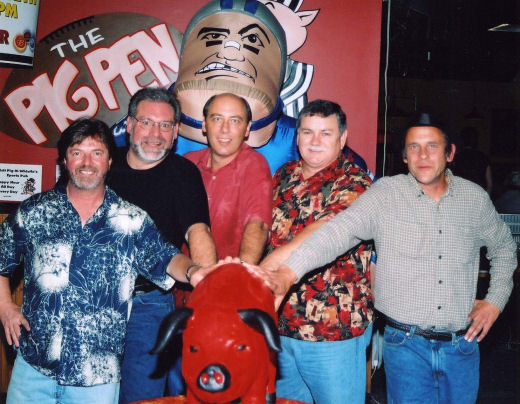 Grassfire Bluegrass Band consists of five seasoned players who all grew up "under the influence" of traditional bluegrass veterans like Bill Monroe and Lester Flatt & Earl Scruggs. Somewhere along their timeline of growth, that influence continued...but expanded when Tony Rice, Ricky Skaggs and Jerry "Flux" Douglas started producing a new style of bluegrass with complex chord progressions and a driving sound that caught the attention of the younger bluegrass crowd. It is that same style of interpretation that Grassfire Bluegrass Band plays today.

Below is a brief description of Grassfire Bluegrass Band members, where they came from and how they assembled to become what they are today...a bluegrass band that interprets traditional bluegrass with a driving modern sound, played not just by musicians, but by entertainers.
---
Randal Morton - Five-String Banjo National Champion
Taking a back seat to no other banjo player in the world, Randal Morton is a true musical genius on the 5-string banjo. Playing since the age of 12, he has won the Mid-South Banjo Championships and in 1975, walked away with the National Bluegrass Banjo Championships in Winfield, Kansas. Randal has no musical genre limitations. From contemporary to classical, blues to bluegrass, his banjo interpretations are polished, clean and powerful. Randal is the driving force behind the upbeat, modern bluegrass sound of Grassfire.

Lyn Jones - Harmonica
Seasoned musician doesn't even begin to pay homage to this versatile player who continues to be a well-recognized staple to many high-profile Mid-South headline acts. Lynn's smooth, swift and soothing harmonica interpretations add another new dimension to Grassfire. A regular with Larry Rasberry and frequent studio musician for radio and television commercials, Lynn's harmonica playing takes the Grassfire sound to a new level of bluegrass. Lynn also plays mandolin, flute and has written numerous songs including the infamous "Germantown Blues."

Robert Dickerson - Vocals, Guitar, Fiddle
Born with more natural musical talent than one person could use in a lifetime, if it has strings, Robert can probably play it. Starting his musical career singing and playing solid rhythm guitar behind a seasoned fiddle player, Robert quickly took up the mandolin, fiddle, bass and eventually the instrument he fell in love with, the pedal steel guitar. No stranger to the Nashville music circuit, Robert was the "steel man" for Nashville singer/songwriter/movie star Mark Collie for more than 10 years. Choosing family over life on the road, Robert's attention soon turned to bluegrass. Growing up and singing with band member Brad Robb for over 30 years, if Brad sings it, Robert covers him like a warm blanket with smooth harmony vocals. The driving sound of Grassfire is fueled by Robert's solid rhythm on his vintage 1974 Martin D-28 and his second part bluegrass and country harmony.

Brad Robb - Lead vocals & Guitar
No bluegrass or country band would be complete without the foundation of a lead singer. Influenced early in his career by Merle Haggard and Tony Rice, if you close your eyes and listen to Brad sing, you can hear frequent inflections from those influences. With a seemingly endless repertoire of country and bluegrass songs, Brad has little problem with downtime between songs trying to decide on material. It's but one piece of evidence sustaining his deep musical roots. Brad was the emcee and lead singer in the country and bluegrass show at Memphis' Libertyland Theme Park the first two years of the park's existence. He has played all around the Mid-South and for a USO Tour that traveled across Europe. Once you hear Brad's voice, a mix of soulful country and progressive bluegrass, you'll agree that his vocals strongly support the overall sound of Grassfire.

Thomas Dunavent - Dawghouse Bass
Thomas Dunavent plays bass for Grassfire. He plays it with passion. He closes his eyes because he doesn't need to see his fingers or the finger board. He feels the music in his soul. Hailing from a musical family in the heart of the Mississippi Delta, Thomas started playing guitar at age 13. Influenced by country, rock, and blues he played rhythm guitar in a band with high school friends until the mid-70s when the "Urban Cowboy" craze caused the band to take on a country format. Switching to electric bass, he began playing with long-time friend Mike Ellis and the Downhome Band. The band opened for tour acts like Tanya Tucker, Freddie Fender, Steve Wariner and others as well as backing up Johnny Russell and Guy Hovis. Thomas always had a fascination with bluegrass music but never had an opportunity to play it until moving to Desoto County Mississippi in 1993 and finally being exposed to it. He eventually found an old "Kay" bass and got a license to drive it in 2004 and has been making up for lost time since. Thomas doesn't say much, he doesn't have to. His music speaks for itself.
---
For bookings or for more information on Grassfire,
contact Brad Robb at one of the following numbers.
Home: 901-757-1842 Office: 866-715-4411 Cell: 901-230-0447